September Special
Buy 1 laser Hair Removal Package and Get The 2nd Half Off!
Mention this ad to redeem in person, or purchase in our online store with no code needed.
Duration 30-60 min | No Downtime
Benefits

A Quick And Convenient Procedure
Safer And Gentler Than Waxing

Treats Skin Of All Types, Tones, And Textures
Provides Long-Lasting Results (Up To 12 Months)
Eliminates The Need For Shaving



Where We Treat

Upper Lips And Chin
Sideburns
Underarms
Bikini Line/Brazilian
Legs
Back And Shoulders
Arms
Back

and more

About Gentle Max Pro

FDA Approved
Gold Standard For Laser Hair Removal
Features An Advanced Cooling System For Maximum Comfort
More Comfortable Treatment With DCD Cooling System
Shop Laser Hair Removal
Regular price

From $660.00 USD

Regular price

Sale price

From $660.00 USD

Unit price

per

Regular price

From $110.00 USD

Regular price

Sale price

From $110.00 USD

Unit price

per

Regular price

From $55.00 USD

Regular price

Sale price

From $55.00 USD

Unit price

per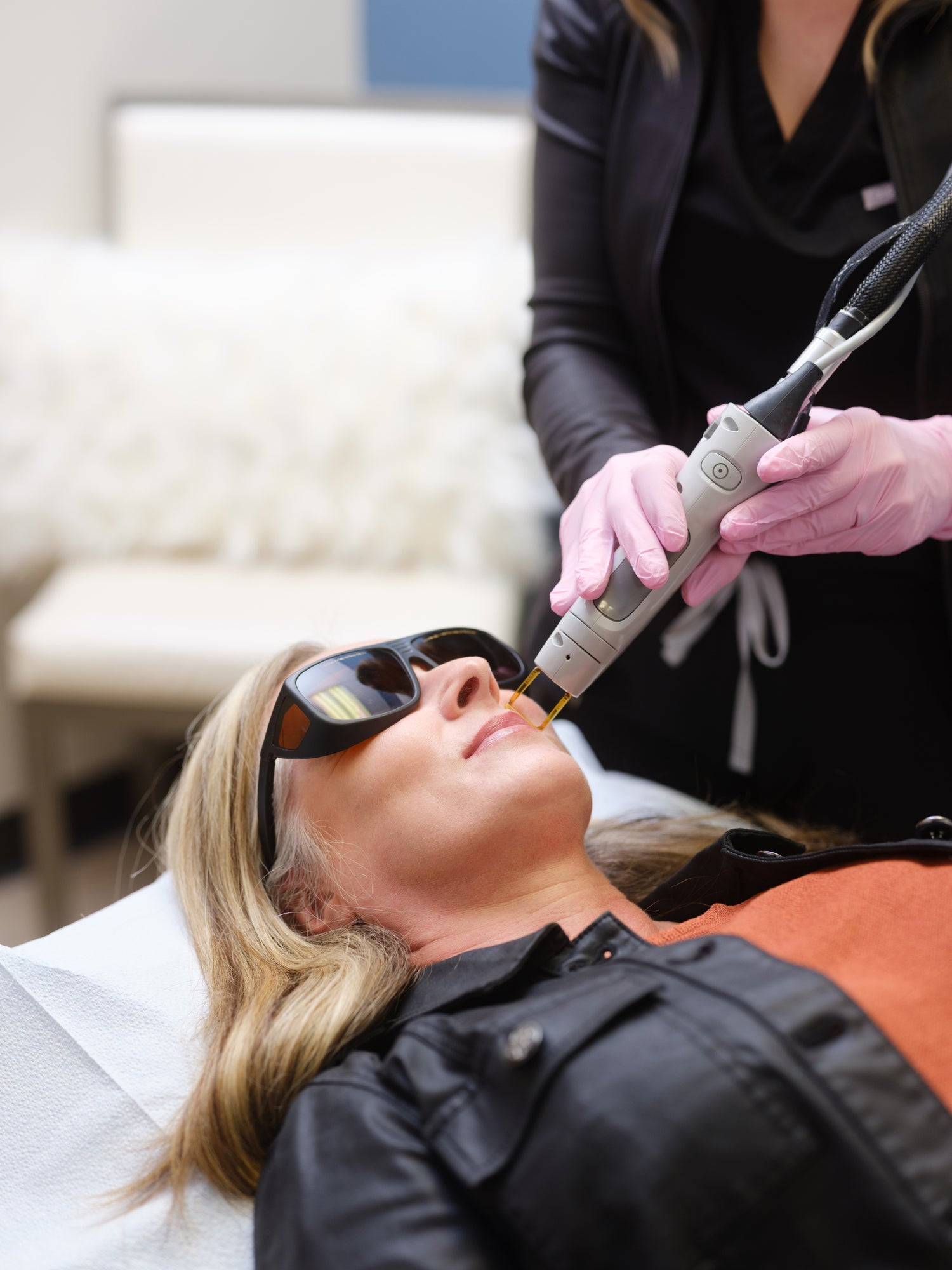 Laser Hair Removal, Why Choose it?
Enjoy silky, sleek, sexy skin with Laser Hair Removal at Longevity Aesthetics and Laser Spa in Oklahoma City. Laser hair removal treatments offer greater precision and longer-lasting results than traditional hair reduction methods like shaving, tweezing, or waxing. It is a non-invasive treatment designed to safely reduce unwanted hair for as long as six to twelve months.

Plus, no more razor cuts or wax burns!

At Longevity, we utilize the best hair reduction laser on the market today, the GentleMax Pro by Candela. This state-of-the-art laser is FDA-cleared to provide quick, comfortable, safe, and effective treatment unlike any device of its kind.

Other laser hair removal systems only target a single skin type. The GentleMax Pro, on the other hand, has the ability to treat all skin types, regardless of complexion or color.

The GentleMax Pro delivers an intense beam of light through a handpiece operated by your laser therapy provider. The laser beam is absorbed by the skin and converted into heat energy, which targets hair follicles without damaging the surrounding tissue.

Some minimal discomfort might be felt during the procedure. The GentleMax Pro's patented Dynamic Cooling Device (DCD) resolves this by releasing a cooling burst of cryogen milliseconds before the laser pulse reaches the skin, protecting you from the harsh rays.
Schedule Your Consultation Now
Laser Hair Removal FAQ
What is a Laser Hair Removal treatment like?

Laser energy is delivered through a small hand piece operated by our expert laser technicians. The laser delivers an intense beam of light, which is absorbed by the skin and converted to heat. The heat is then absorbed by the cells being targeted, while the surrounding tissue remains unaffected.
Are Laser Hair Removal Treatments Painful?

Some clients may feel a slight discomfort with each laser pulse, sometimes described as the snapping of a rubber band on the skin. This discomfort resolves in several seconds and is minimized by Candela's DCD cooling system. The patented Dynamic Cooling Device™ (DCD™), prepares the skin for treatment by spraying the upper layer with a cooling burst of cryogen in adjustable durations – milliseconds before the laser pulse. DCD helps ensure that the treatments are as comfortable as they are effective.
What Should I do Before My treatment?

Be sure to consult with our expert laser technicians for complete instructions before your treatment., but there are a few precautions you'll need to take. Avoid sun exposure at least two weeks before treatment. Do not bleach, pluck or wax four-to-six weeks before and after treatment. Wait until your tan fades before beginning treatment.
How long do treatments take & how many will I need?

Treatment times may vary depending on your specific needs. Hair growth is reduced after each treatment and the number of treatments required will be based on your hair color and type, body area and skin tone.
Are Laser Hair Removal Treatments Safe & Are There Any Side Effects?

Laser and light-based treatments have been safely used for many years for a variety of medical and cosmetic procedures. Your risks are minimal. Your skin may be slightly red immediately following the procedure. This typically lasts from a few minutes to several hours after the procedure. Our laser service providers will go over all you need to know at your initial consultation.
How Can I Get Started?

Call us to schedule your consultation today.
Enjoy 20% OFF On Your First Visit With Us.
Our Locations
South Location

3110 SW 89th, Suite 101

Oklahoma City, Ok 73159

North Location

11600 N Pennsylvania

Oklahoma City, Ok 73159